Posted: June 19, 2002
Contact: Doug Anderson, doug.anderson@MinnState.edu, 651-201-1426
Josephine Reed-Taylor Named Interim President of Minneapolis Community and Technical College
Chancellor James H. McCormick will serve until June 30, 2005, under a one-year extension of his contract approved today by the Minnesota State Colleges and Universities Board of Trustees. The board also increased the chancellor's annual salary from $230,000 to $250,000.
"Chancellor McCormick has been absolutely outstanding in his first year as leader and advocate for Minnesota State Colleges and Universities," said Board Chair Mary P. Choate. "The chancellor has worked energetically and effectively at making important connections among our campuses, communities, legislators and civic and business leaders, and the board wants him to lead the implementation of our system's new strategic plan throughout its three-year period."
McCormick, 63, was chancellor of the State System of Higher Education for the Commonwealth of Pennsylvania when he was hired in December 2000 to head the Minnesota state system. He assumed his position July 2, 2001, and since then has visited all 53 campuses, met with more than 170 legislators and numerous organizations, including the 33-member Citizens Advisory Commission he appointed to advise the system on future directions.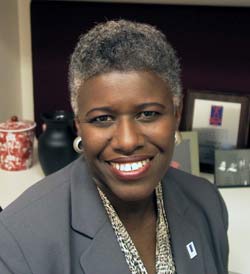 McCormick's salary increase will be effective July 1, 2002, but he asked not to collect it until the Legislative Subcommittee on Employee Relations approves the salary provisions of the personnel plan for Minnesota State Colleges and Universities administrators.
The board also approved the appointment of Josephine Reed-Taylor as interim president for Minneapolis Community and Technical College on the recommendation of Chancellor McCormick. Reed-Taylor, the college's senior vice president for academic and student affairs, replaces President Phillip Davis, who resigned effective June 30 to become president of Aims Community College in Greeley, Colo.
Reed-Taylor, 51, has been at Minneapolis Community and Technical College for 15 years in a number of administrative positions, including vice president for academic affairs, dean of educational services, dean of students and interim dean of instruction. She holds a doctorate in educational administration and a master's degree from the University of Minnesota, and a bachelor's degree from Spelman College in Atlanta, Ga.
Under board policy, interim presidents are not eligible to be considered for the permanent presidency of the institution.