Posted: March 6, 2006
Contact: Doug Anderson, doug.anderson@MinnState.edu, 651-201-1426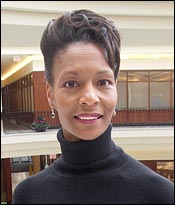 Maria McLemore-Sklar
The Minnesota State Colleges and Universities has appointed Maria McLemore-Sklar as director of foundation and corporate relations within the Development Division.
McLemore-Sklar most recently served as the assistant director of corporate and foundation relations at the University of St. Thomas in St. Paul.
"We're excited that Ms. McLemore-Sklar has accepted this new position," said Catherine McGlinch, executive director of the Minnesota State Colleges and Universities Foundation. "Her experience will bring a new depth to advancing relationships with foundation and corporate donors and creating improved internal processes for seeking these funds. Her efforts will be focused on assisting the system to achieve goals laid out in its strategic plan."
Prior to working at St. Thomas, she was the director of research and grants at Concordia University, St. Paul. Entering her 12th year in the field of development, McLemore-Sklar also worked for Catholic Charities of St. Louis and Craft Alliance, one of the nation's largest fine craft education centers. McLemore-Sklar has a bachelor's degree in management from Webster University in St. Louis.