Exceptional Value
Your state colleges and universities offer the lowest tuition and fees in Minnesota, giving you access to first-rate education options throughout the state and the ability to avoid or limit debt. Before grants and scholarships, the average cost of tuition and fees at Minnesota State colleges is $6,127 and the average tuition and fees at Minnesota State universities is $9,884 per year — see how this compares to the Univeristy of Minnesota and private colleges.
North Star Promise Scholarship
Beginning in fall 2024, the North Star Promise Scholarship program, which is just one element of the Minnesota State Promise, will create a tuition free pathway to higher education for eligible Minnesota residents at any of the 26 state colleges and seven state universities of Minnesota State. This is Minnesota's new free college program.
To be eligible for with scholarship, students must:
Be a Minnesota resident
Have a family Adjusted Gross Income (AGI) as reported on the Free Application for Federal Student Aid (FAFSA) or Minnesota Dream Act Application below $80,000.
Attend a Minnesota public higher education institution (including Minnesota State) or Tribal College
Not be in default on a state or federal student loan
Be enrolled taking at least one credit
Meet Satisfactory Academic Progress standards
Have not already earned a baccalaureate degree
Be enrolled in a program or course of study that applies to a degree, diploma, or certificate
To learn more about the North Star Promise Scholarship, head over to Minnesota Office of Higher Education's website.
Affordability and Debt
Overall, 63% of Minnesota State students, receive financial aid to help pay for college or offset costs. Learn more about financial aid at Minnesota State.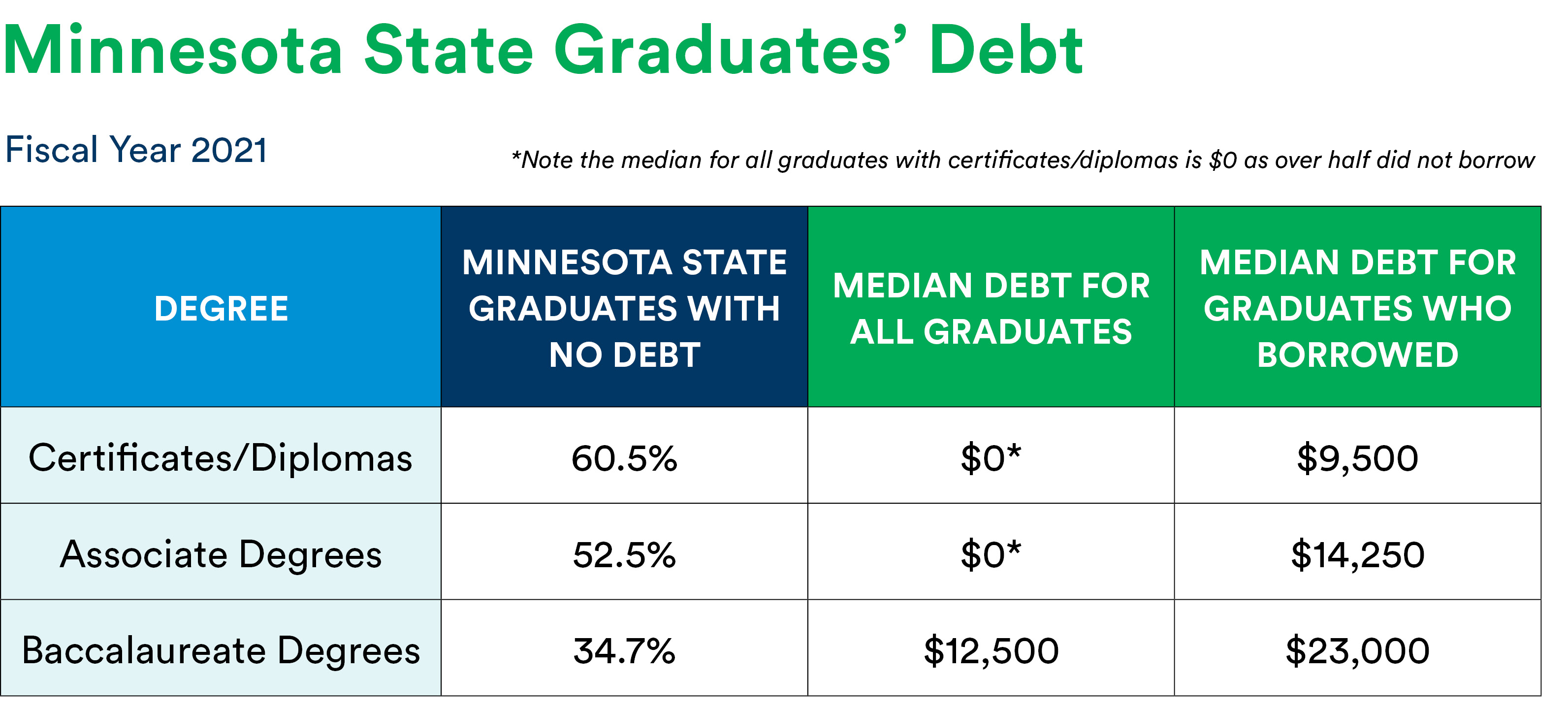 Not only is our tuition the lowest in the state and most of our students receive financial aid, but between 34% and 60% of Minnesota State students graduate with no debt at all.
But don't take our word for it – check out what our students have to say: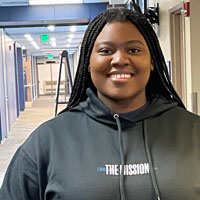 "I received a federal grant and that pretty much covers most of what I need. I haven't had to take out a loan…there are scholarships, crisis grants, and Covid relief grants that really helped me. I had to pay very little out of pocket during my two years here. Very affordable."
Oluwatimi (Carla) Jinadu, student at Anoka-Ramsey Community College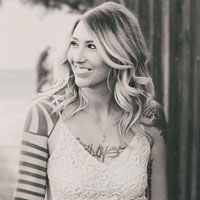 "M State allowed me to achieve a goal that did not seem possible for a large portion of my life. I was a single mom, working full-time, trying to make ends meet. The ability to earn my degree online on my own schedule made this all possible for me."
Shawna Davenport, graduate of Minnesota State Community and Technical College
2023-2024 Annual In-State Undergraduate Tuition and Fee Rates
(based on full-time students with 30 credits)
Minnesota State Colleges

Alexandria Technical & Community College
$6,108
Anoka-Ramsey Community College
$5,655
Anoka Technical College
$6,267
Central Lakes College
$6,119
Dakota County Technical College
$6,419
Fond du Lac Tribal & Community College
$5,998
Hennepin Technical College
$5,939
Inver Hills Community College
$6,007
Lake Superior College
$5,768
Minneapolis College
$6,098
Minnesota North College
$5,969
Minnesota State College Southeast
$6,294
Minnesota State Community & Technical College
$5,976
Minnesota West Community & Technical College
$6,484
Normandale Community College
$6,321
North Hennepin Community College
$6,313
Northland Community & Technical College
$6,242
Northwest Technical College
$6,227
Pine Technical & Community College
$5,804
Ridgewater College
$6,109
Riverland Community College
$6,242
Rochester Community and Technical College
$6,303
St. Cloud Technical & Community College
$6,075
Saint Paul College
$6,318
South Central College
$6,151

Minnesota State Universities
Bemidji State University
$10,063
Metropolitan State University
$9,690
Minnesota State University, Mankato
$9,442
Minnesota State University Moorhead
$10,236
St. Cloud State University
$10,119
Southwest Minnesota State University
$10,119
Winona State University
$9,521
University of Minnesota, Crookston:

$13,120

University of Minnesota, Duluth:

$12,766

University of Minnesota, Morris: $12,932
University of Minnesota, Rochester:

$14,400

University of Minnesota, Twin Cities:

$16,654
Augsburg University $

43,142

Bethany Lutheran College $38,280
Bethel University $

42,930

Carleton College $

65,043

College of Saint Benedict $

53,884

The College of Saint Scholastica $

39,530

Concordia College $30,020
Concordia University, St. Paul $

25,000

Crown College $29,230
Dunwoody College of Technology $24,029
Gustavus Adolphus College $

53,570

Hamline University $

47,134

Macalester College $

64,678

Martin Luther College $17,420
Minneapolis College of Art and Design $

43,374

North Central University $

28,500

Saint John's University $

53,942

Saint Mary's University of Minnesota $

42,500

St. Catherine University $48,864
St. Olaf College $56,970
University of Northwestern $35,970
University of St. Thomas $50,788