Posted: September 14, 2005
Contact: Doug Anderson, doug.anderson@MinnState.edu, 651-201-1426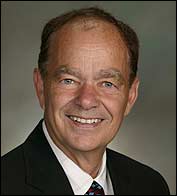 Born on April 20, 1941 and raised on a farm 60 miles west of his current home in Mankato, Glen Taylor graduated from Comfrey High School in 1959. He received his Bachelor of Science degree in Math, Physics and Social Science from Mankato State University in 1962. During this period, he worked part time at Carlson Wedding Service. Later he would own the company. He continued his education at the Harvard Graduate School of Business. Glen has five children: Terri, Jean, Taylor Moor, Jeff and Kendahl.
Glen has contributed to the community...
President of the YMCA
Chamber of Commerce, Director
Church Board of Deacons and Board of Trustees
Mankato Jaycees President
United Way Campaign Chairman
Moderator - First Congregational Church
Minnesota State University Foundation Board
statewide and nationwide...
Director, Minnesota Business Partnership
Director, Greater Minnesota Corporation
President of the International Thermographers Association
Provides expert testimony on business and child care issues to U.S. Senate and House of Representatives
Appointed by Governor Arne Carlson in 1991 to the Commission On Reform and Efficiency (CORE) where he served as Committee Chair.
Glen has been recognized for his contribution...
Mankato Area Distinguished Service Award
Mankato State University Distinguished Alumni Award
Outstanding Jaycee Chapter President in Minnesota
Distinguished Service Award from the Minnesota Association for Education of Young Children
Recipient of the "Book of Golden Deeds" award
Elected to membership in the Honor Society of Phi Kappa Phi
Selected by Corporate Report Minnesota magazine as the 1987 Executive of the Year
1987 Laureate of the Minnesota Business Hall of Fame
Recipient of the Minnesota Council on Family Relations "MCFR Friend of the Family" award
Recipient of the Toastmasters International "Communication & Leadership" award
In 1996, South Central College presented him with a honorary degree, an Associate of Applied Science Degree in Graphic Arts.
Mankato State University awarded Taylor its first honorary doctorate on June 7, 1996. Taylor received the degree of Honorary Doctor of Laws for his distinguished professional career and volunteer service.
Sales Executive of the Year from the Sales and Marketing Executives of Minneapolis & St. Paul, 1999
Glen was elected to the Minnesota Senate in 1980 and served until 1990. He became Assistant Minority Leader in 1982. From 1984 to 1986, his fellow Senators elected him Minority Leader of the Senate. He provided leadership in the areas of higher education, child care and economic development policies.
Glen is the Chairman of the Board of Taylor Corporation. The Taylor companies include more than 70 operating divisions in 19 states, three Canadian provinces, the United Kingdom, Australia, the Netherlands, Sweden and Mexico. They employ more than 5,000 Minnesotans. Total Taylor employment exceeds 14,000 employees. On August 5, 1994, Glen Taylor reached an agreement to buy the Timberwolves. His purchase ended months of speculation about the long-term future of the team and guaranteed that the franchise would remain a part of the Minnesota sports scene for many years to come. In 1999 he added the WNBA women's basketball team, the Minnesota Lynx, to the growing list of Minnesota sports teams.
Taylor Relief Fund fact sheet (pdf)