Bemidji State University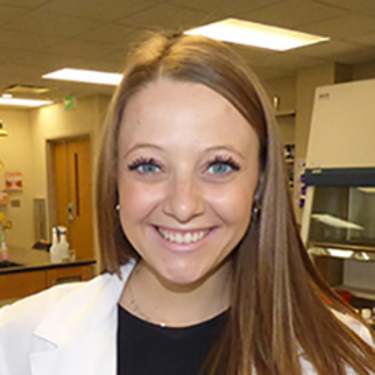 Savannah "Anna" Corradi
Hometown: Bemidji, Minnesota
Anticipated Graduation: 2021
Degree/Major: Biochemistry with a cellular and molecular emphasis
Savannah "Anna" Corradi started her research experience at Bemidji State University during her junior year at Bemidji High School. Now a college senior, majoring in biochemistry with a cellular and molecular emphasis, Anna is well on her way to making an impact in the medical field through her research on ovarian cancer. 
 
Anna, a life-long Bemidji native, decided to attend Bemidji State after attending a presentation at Bemidji High School by BSU Professor of Biology Dr. Mark Wallert. Wallert's presentation on his cancer research team and the opportunities it could provide caught Anna's attention, and she immediately joined the team as a volunteer. 
 
In just three years at Bemidji State, Anna has presented her research internationally and has won numerous recognitions for her study of a protein called NHE-1 and its role ovarian cancer cells. 
 
"Specifically, I have been working with different chemotherapeutic agents and combining them with known inhibitors of this protein," Anna said. "I am looking for a synergistic relationship between the two — so essentially I'm not curing cancer, but finding a better treatment for it and trying to decrease the potency of these chemotherapeutics and their negative side effects." 
 
Expected to graduate in spring of 2021, Anna hopes to attend graduate school and earn a doctorate in biomedical sciences. 
 
Funding sources that support the research team include the Lueken Family Foundation, the Richard Beitzel Biochemistry Student Research Fund, the American Society for Biochemistry and Molecular Biology and various BSU faculty grants.