Northland Community & Technical College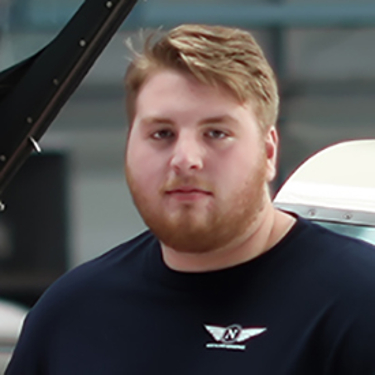 Noah Anderson
Hometown: East Grand Forks, Minnesota
Graduated: 2019
Degree/Major: Aviation Maintenance Technology
Originally from East Grand Forks, Minnesota, Aviation Maintenance Technology student Noah Anderson always anticipated attending Northland following graduation from Sacred Heart High School—his chosen career path, however, was more than unexpected.
When Noah first enrolled at Northland's East Grand Forks campus, he expected to take his generals and move on to a four-year college. Somehow fate intervened when he was introduced to Northland's Aviation program by a family member in the industry.
"I had zero aviation experience prior to Northland and had only flown in a plane once, and that was intimidating," shared Noah. "After scheduling a tour at the encouragement of my cousin, however, I somehow knew that this program was the perfect fit for me. I was up to the challenge."
With an unwavering drive and a huge dose of encouragement, Noah pushed forward. "I was only one of a couple of students that had no prior aviation exposure before coming to Northland, but instructors instilled confidence in me, they made me believe in myself, made me believe that I can do this," Noah revealed.
That confidence opened up a world of possibilities. Upon graduation, Noah jumped into a career as a mechanic at General Atomics Aeronautical Systems in Grand Forks, North Dakota, specializing in remotely piloted aircraft systems.