Rainy River Community College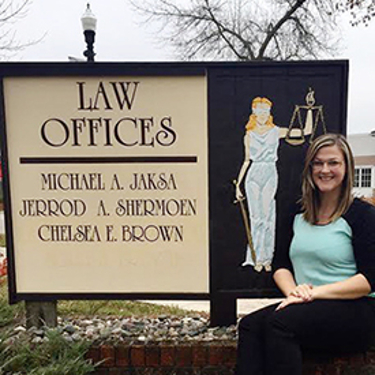 Chelsea Brown
Hometown: International Falls, Minnesota
Anticipated Graduation: 2021
Degree/Major: Associate of Applied Science (Industrial Equipment Technician)
I graduated from RRCC in the spring of 2011 with my AA degree. I then transferred to the University of Minnesota, Morris to complete my Bachelor's degree in Political Science. Upon graduating from the U of M Morris I transferred to the University of North Dakota School of Law. After three years of law school, I graduated with my Juris Doctorate in May, 2016.
I then returned to my hometown, International Falls to study for my bar exam, which I completed in July. I now work as an attorney at Shermoen-Jaksa Law of PLLC, with a focus on litigation, real estate, family law, estate planning, and probate.
RRCC prepared me personally, educationally, and professionally for the never-ending learning that accompanies the practice of law. RRCC helped me grow as an individual in many respects. Sue Nordquist's public speaking class allowed me to not only find my voice and realize its worth, but to learn how best to express myself genuinely and appropriately in any situation (which can be difficult at times in today's world).
My pottery hour with Mark Rooney taught me time management among other things to aid in my navigation through seven years of education and even into my career. Mr. Rooney allowed us to listen to music while working on our projects at our own pace. However, he did so with guidance. I remember delicate reminders of upcoming projects and "recommended" deadlines. That amount of freedom, although potentially dangerous, provided a fun, controlled, learning environment. Without the ability to learn time management by trial and error, I would not have the organizational skills, ability to prioritize, or ability to know I have earned a break to relax and enjoy myself.
I thank each and every instructor and staff member at RRCC for such a wonderful experience.