South Central College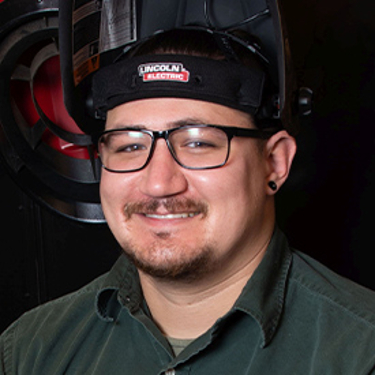 Theodore Wulff
Hometown: Lakeville, Minnesota
Graduated: 2020
Degree/Major: Welding
As a Sergeant in the Army specializing in Explosive Ordinance Disposal, Theodore Wulff was considered an expert in his field working on complex projects and training others as well. Along with the demands of the position came tremendous sense of pride and purpose. But in 2019, Wulff's military career was cut short when an injury required him to be medically discharged.
Wulff purchased a hobby farm near Le Sueur, where he lives with his wife and young son. While happy to be back in Minnesota near family, he knew he needed to pursue a career that gave him the same fulfillment he had enjoyed in the military.
Having done a little welding while working on cars with his father growing up and using it on a limited basis as part of his military career, Wulff decided to his GI Bill education benefits to get a certificate in the welding program at South Central College. "It turned out to be a very wise decision," said Wulff. "The staff were extremely helpful in the enrollment process and helping me utilize my GI benefits, and my instructors are absolutely the best in the business."
As one of the older students in his welding class, Wulff has also found himself in the role of informal mentor to some other students. "The values of respect, hard work, self-reliance and accountability that were instilled in me in the military are beneficial for anyone looking to succeed in life," said Wulff.
After earning his certificate in welding, Wulff has decided to broaden his skills at South Central College and is currently in the Machine Tool Technology program.