Southwest Minnesota State University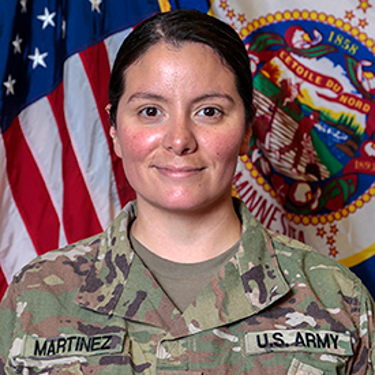 Sirrina Martinez
Hometown: Tyler, Minnesota
Anticipated Graduation: 2021
Degrees/Majors:Communication Studies (Public Relations); Communication Studies (Broadcast and Digital Media)
Minor: Graphic Design
Southwest Minnesota State University student Sirrina Martinez takes distance learning to a new level. In her case, that's 7,864 miles. 
Sirrina is finishing her senior year while deployed to the Horn of Africa as a member of the Minnesota National Guard. Her unit is part of Task Force Bayonet. 
She is a Public Affairs noncommissioned officer, which fits nicely with her academic pursuits at SMSU. Sirrina is majoring in Communication Studies: Public Relations, and Communication Studies: Broadcast & Digital Media. She is also a Graphic Design minor. 
The Horn of Africa is located in Eastern Africa, home to Somalia, Ethiopia and several other countries. It's her job to "document what the soldiers are doing, to tell the story of the task force." 
She is a non-traditional student and a part-time civilian journalist with the Pipestone County Star. "I'm a multimedia journalist, which includes writing, video and photography. I credit being able to do this with my pre-existing knowledge — what I learned at SMSU and my work as a civilian reporter." 
Faculty support and flexibility are keys to finishing her senior year, she feels. "A lot of military people have our lives get uprooted, but we don't want to be 50 when we finish our degree. By moving online, SMSU is really helping these working adults and military personnel. My faculty members have been so supportive."