Purpose & Overview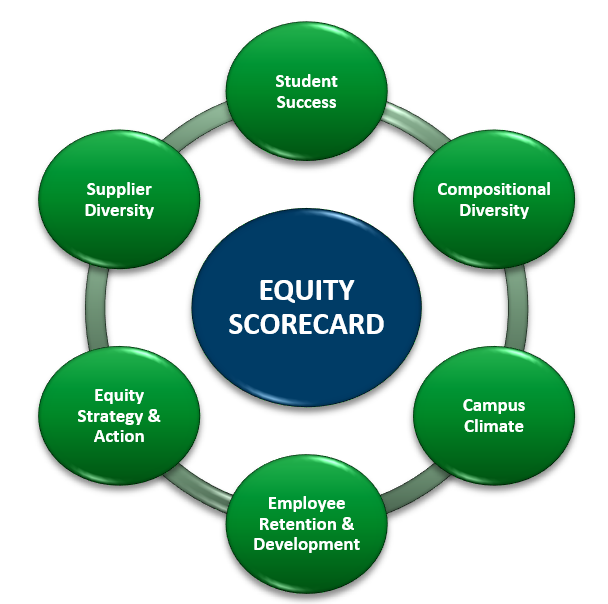 The Equity Scorecard is an instrumental tool for creating greater awareness of, and accountability for, equity gaps across key facets of our institutions and system which are relevant to impacting equity, diversity, and inclusion. The approach includes a holistic view focus on measurable Key Performance Indicators (KPIs), which together aim to help campus leaders foster institutional change through data-informed decision making.
Background
Conceptualization of the Equity Scorecard began in 2019. The Board of Trustees, Chancellor, and Office of Equity and Inclusion (OEI) recognized the need for an integrated approach which utilizes data in a strategic manner to help Minnesota State understand the "health" of our institutions and system from an equity standpoint. The research of the USC Rossier Center for Urban Education (CUE) and their adaptive Equity Scorecard process, Dr. Damon Williams' work on Strategic Diversity Leadership (2013), and the examination of various higher education and private industry scorecard models informed our approach.
In 2020, OEI established a cross-functional working group comprised of system- and campus-level partners from Academic Affairs, Student Affairs, Legal, Human Resources, Finance, Equity & Inclusion, Enrollment Management, Institutional Research/Institutional Effectiveness, and Information Technology to undertake the development of the Equity Scorecard and corresponding Key Performance/Key Equity Indicators. 
The Equity Scorecard Aims to:
Increase Transparency: Increase institutional responsibility, monitoring, and accountability necessary to realize greater equity, diversity, and inclusion.
Make Disparities Evident: Provide clear and readily understandable picture of disparities for key dimensions of equity, diversity, and inclusion relevant to colleges and universities.
Facilitate Improvement Process: Inform strategy and facilitate process of holistically identifying areas of need, opportunities for improvement, and existing areas of success pertinent to advancing equity, diversity, and inclusion.
Encourage Inquiry & Targeted Action: Prompts further questions about the conditions and factors which impede equitable outcomes for all students and employees.
Support Assessment: Assess progress in, and impact of strategy on, pursuing equity, diversity, and inclusion objectives and goals.
Demonstrate Commitment: Demonstrating commitment to equity in student and employee outcomes and experiences.
Due to the scale of our system and the complex nature of equity work, it necessitated taking a phased approach to this work. Key considerations included: fostering understanding around basic principles, key terms, and tenants of equity, diversity, and inclusion (EDI); building capacity to engage in conversations tied to equity, at both an individual and organizational level; acclimating stakeholders to equity-minded data disaggregation; and examining our data infrastructure and data needs.
It is important to note that we recognize the need to examine inequities for other identities beyond race, gender, and socioeconomic status. For example, ability status, LGBTQ+ identity, gender beyond binary M/F, veterans, different ethnicities, and others all warrant attention. Collectively, the Minnesota State system and the Equity Scorecard working group are examining considerations related to data privacy as well as gaps in our systemwide data collection practices for various groups.


The Minnesota State Equity Scorecard focuses on six (6) Key Performance Indicators (KPIs), two (2) of which are still in development. The KPIs include:
KPI 1: Student Success
KPI 2: Compositional Diversity
KPI 3: Employee Retention and Development
KPI 4: Supplier Diversity
KPI 5: Equity Strategy & Action (in development)
KPI 6: Campus Climate (in development)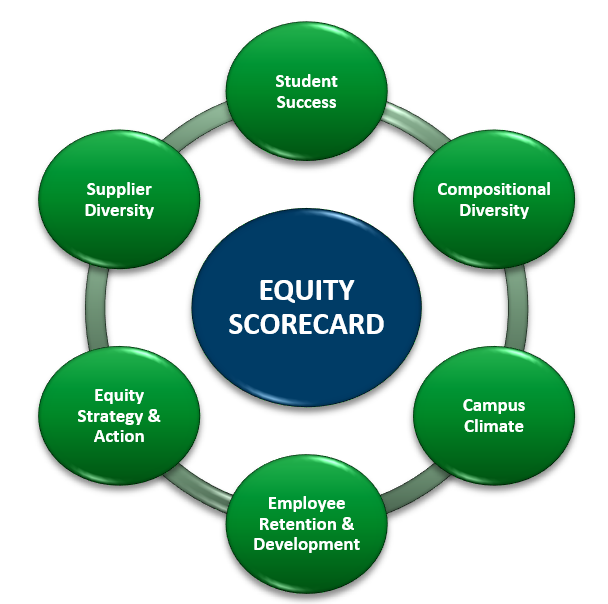 The initial version of the dynamic Equity Scorecard dashboard is available and accessible by Minnesota State employees. As the tool is rolled out, stakeholder groups will be provided training and demonstrations of how to best utilize and interact with the Equity Scorecard. In the coming year, we aim to develop a process for campuses to provide information about their efforts to address equity gaps across each of the Key Performance Indicators. Finally, the Equity Scorecard workgroup will continue its work to further build out the Key Performance Indicators and develop additional metrics in conjunction with our system and campus stakeholders, as well as identifying options for making the Equity Scorecard public-facing.  
For information about the Equity Scorecard please reach out to Dr. Priyank Shah, Associate Vice Chancellor of Equity and Inclusion, at priyank.shah@minnstate.edu; and Tarrence Robertson, Project Director for Diversity Equity and Inclusion, at tarrence.robertson@minnstate.edu.
Equity Scorecard Training & Overview Webinar