Know the requirements to be a CDL driver

In Minnesota, you must be at least 18 to qualify for a CDL. However, to drive a commercial vehicle across state lines or to transport hazardous materials, in most cases, you need to be 21 years of age.
A valid Class D driver's license.
A valid commercial learner permit (CLP) is required before you can start road training for your CDL. We recommend you get your CLP before you start the program. Talk to us if you need help with this.
Pass a Department of Transportation (DOT) physical and DOT drug screening.
Apply for the CDL A program
Once you have your CLP you are ready to start training. Our CDL Class A training program will quickly get you on the road - in as little as six weeks.
Program Length
Program length is 6 weeks:
2 weeks online
weeks on the range
2 weeks on the road
Test at the end
Program Cost
Tuition is $5,995
Expected additional costs for: Permit Fee, DOT Physical, Textbook, Drug Test, License Fee (upon obtaining CDL)
If you are interested in a student loan from Sallie Mae, click on the logo below.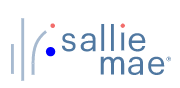 Watch the video below to learn about a career as a truck driver.