Employer Solutions
Train Your Workforce
Each year, Minnesota State provides training to over 2,700 businesses and 130,000 individuals. Our 54 campuses have quality instructors with real-world experience — they work with businesses, government agencies, and non-profits to provide successful consulting and training solutions for virtually every industry. Whether your employees need certification, skill building, or career training, Minnesota State can help.
Learn More
Contact Us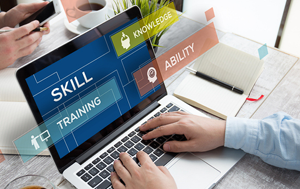 Grow Your Workforce
With over 7,000 active employer partnerships, Minnesota State helps develop the workforce companies need today and into the future. Whether you're looking for qualified employees or need workforce development, there's a wealth of resources available to employers across Minnesota State campuses.
Are you looking for workforce development near you?  Consider one of the 54 campuses below.
Contact Us
Whether you are looking for training for your workforce, help connecting to industry experts, or any other need, our trained support staff is available to answer your questions and connect you with resources. 
Live chat, email questions, or call us to connect to solutions for your workforce. We look forward to assisting you! 
Toll-free: 833-905-WORK
International: +1-651-5568456
MN Relay: 800-627-3529