Posted: June 22, 2011
Contact: Doug Anderson, doug.anderson@MinnState.edu, 651-201-1426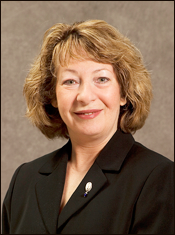 Peggy Kennedy
The Minnesota State Colleges and University Board of Trustees Wednesday appointed Peggy Kennedy, interim president of Minnesota State Community and Technical College, which has campuses in Detroit Lakes, Fergus Falls, Moorhead and Wadena.

Kennedy has served as a vice president of academic affairs and student development of Saint Paul College since 1994. Previously, she was dean for business and general education programs at the college; advanced training specialist and coordinator in the Information System Division at Cenex Corp., now MSA Advanced Manufacturing; and a curriculum consultant at Minnesota Curriculum Services Center; and a business and English instructor at Washington High School and Milwaukee Area Technical College in Wisconsin.

"Peggy Kennedy offers a strong combination of experience, leadership skills and management talent that will benefit Minnesota State Community and Technical College," said Clarence Hightower, chair of the board's Human Resources Committee. "She also is committed to strengthening ties with the communities served by the college."

Chancellor James H. McCormick said, "Peggy has worked extensively in the areas of strategic planning, assessment of student learning and institutional effectiveness. I have no doubt she will be an effective interim president."

Kennedy has a bachelor's degree in education from the University of Wisconsin, Whitewater; and a master's degree in business education and Ed.D. in educational policy and administration, both from the University of Minnesota.

Kennedy said, "I am truly honored to be chosen as the interim president at Minnesota State Community and Technical College. I look forward to working with the students, faculty, staff and communities in Detroit Lakes, Fergus Falls, Moorhead and Wadena."

The appointment of an interim president is due to the resignation of the current president, Ann Valentine, who is leaving to take a job outside of Minnesota. A search is likely to be started in the fall to look for a permanent president.