Posted: July 20, 2011
Contact: Doug Anderson, doug.anderson@MinnState.edu, 651-201-1426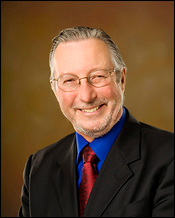 Larry Litecky
The Minnesota State Colleges and Universities Board of Trustees today appointed Larry Litecky to be the interim vice chancellor for academic and student affairs.

Litecky, who retired June 30 from his presidency at Century College in White Bear Lake, takes office Aug. 1. The selection was made by Chancellor-designate Steven Rosenstone, who assumes office Aug. 1 after Chancellor James H. McCormick retires.

Litecky succeeds Scott Olson, whose term as interim vice chancellor for academic and student affairs ends July 31. Olson will return to his post as provost and vice president for academic and student affairs at Minnesota State University, Mankato.

"Larry Litecky is a proven leader who has experience with state universities as well as the two-year colleges," said Trustee Clarence Hightower, who chairs the board's Human Resources Committee. "I am pleased that he has agreed to take this position for the system."

"I am very excited about the position and thanks to the chancellor and the board for giving me this opportunity," Litecky said.

Litecky became president of Century College in 2000. Prior to serving as president, he was the interim president at the college, special assistant to the senior vice president for student and academic affairs at Metropolitan State University; and special assistant to the chancellor in the system office. He served as president of the Minnesota Community College Faculty Association from 1990-1998.