Posted: May 16, 2012
Contact: Doug Anderson, doug.anderson@MinnState.edu, 651-201-1426
ST. PAUL, Minn. - The Minnesota State Colleges and Universities (MnSCU) Board of Trustees today awarded emeritus status to Winona State University President Judith Ramaley, who is stepping down after seven years of service.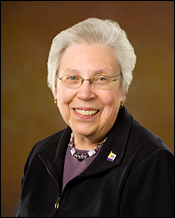 "Judith Ramaley has had a remarkable career that has spanned nearly one-half century," said Chancellor Steven Rosenstone in recommending emeritus status to the board. "Over the past seven years, President Ramaley has made tremendous and lasting contributions to both Winona State University and to the MnSCU system. First, and foremost, is her advancement of the excellence of Winona's academic programs and its service to Winona, Rochester and southeast Minnesota."

Rosenstone also noted Ramaley's service to Minnesota, which includes being a member and past chair of the Minnesota Campus Compact Board, a director of the Merchants Bank Financial Group and a board member of the Winona County Historical Society, the Great River Shakespeare Festival and the Seven Rivers Alliance.

Ramaley has been a nationally recognized higher education leader, serving on boards or committees for the Girl Scouts of the USA, the National Governor's Association Innovation Task Force, the Executive Committee of the American College and University Presidents Climate Commitment, the presidential advisory panel for the Association of Governing Boards and the Greater Expectations Panel, a group developed by the Association of American Colleges and Universities to define the aims of a 21st century undergraduate education and identify strategies for accomplishing these aims.

Board of Trustees Chair Scott Thiss said: "President Ramaley's leadership has helped ensure that Winona State University is one of the nation's best universities. The title of president emeritus brings great honor not only to Judith Ramaley, but to Minnesota State Colleges and Universities."

Emeritus status is intended as a special honor for system employees who have served with great distinction.