Posted: February 26, 2013
Contact: Doug Anderson, doug.anderson@MinnState.edu, 651-201-1426
The Board of Trustees of the Minnesota State Colleges and Universities (MnSCU) system today appointed Connie J. Gores to be the next president of Southwest Minnesota State University.

Steven Rosenstone, MnSCU chancellor, said, "Connie's track record has been truly impressive. Under her leadership, Winona State University improved academic quality and has boosted retention and graduation rates to record levels. Her upbringing in rural and agricultural communities will serve her well in driving the mission and vision of Southwest Minnesota State."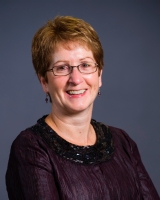 Clarence Hightower, chair of the MnSCU Board of Trustees, said, "Southwest Minnesota State University has a proud tradition of fostering intellectual growth and career preparation within a liberal arts tradition. Her leadership will help the university fulfill its mission of preparing students to meet today's complex challenges as citizens engaged in their local and global communities."

Gores has served at Winona State University since 2007 as the vice president for student life and development and as interim president during the summer 2012. She brings with her considerable experience in higher education administration and student services from Randolph-Macon Woman's College, Cornish College of the Arts, and Willamette University College of Law. She holds a bachelor's degree in Sociology from North Dakota State University, a master's degree in College Student Personnel Administration from Colorado State University, and a doctorate in Educational Leadership and Policy Studies, Higher Education Administration from the University of Washington.

Gores said, "I am tremendously honored to be selected for this role, and I look forward to working closely with the faculty, staff, and students to further the strong academics, fulfilling social opportunities and commitment to student support that this outstanding university has to offer, as well as meeting the needs of communities in southwestern Minnesota."

Southwest Minnesota State University is the youngest of the four-year institutions within the Minnesota State Colleges and Universities system. SMSU offers a high-quality, affordable education in the liberal arts and professions and served more than 6,500 students last year. It offers 50 majors and four master's degree programs and is the educational and cultural hub of the 19-county southwest Minnesota region.

Gores will begin her position on July 1, 2013.