Posted: March 20, 2013
Contact: Doug Anderson, doug.anderson@MinnState.edu, 651-201-1426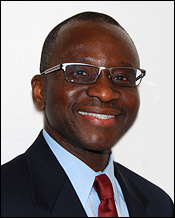 The Board of Trustees of the Minnesota State Colleges and Universities (MnSCU) system today appointed Adenuga Atewologun president of Riverland Community College. His appointment is effective July 1.

Atewologun has served as vice president, academic affairs and dean of faculty at Prairie State College (IL) since 2009. Prior to Prairie State, he served from 2008-2009 as an American Council on Education Fellow at Bellevue College (WA). Previously, Atewologun served from 1997-2008 at College of DuPage (IL), including dean of the Natural and Applied Sciences Division, interim dean of the Health, Social and Behavioral Sciences Division, and associate dean and assistant to the interim dean of the Natural Sciences Division. He has served on the faculty at College of DuPage, Parkland College, and the University of Illinois at Urbana-Champaign.

Atewologun holds a bachelor's degree in agricultural engineering from the University of Ife (Ile-Ife, Nigeria) and a master's and a doctorate in agricultural engineering from the University of Illinois at Urbana-Champaign.

In recommending Atewologun's appointment, Steven Rosenstone, MnSCU chancellor, said, "Dr. Atewologun is an engaging leader who brings a passion for excellence and deep experience to Riverland Community College. His strategic thinking and focus on innovation and creativity will be a tremendous asset to the college and to our community partners in Albert Lea, Austin, Owatonna and the region."

Clarence Hightower, chair of the MnSCU Board of Trustees, said, "Riverland and its graduates play a vital role in the growth and development of the communities served by the college. Under Dr. Atewologun's leadership, Riverland will continue to improve the lives of our students and help advance the competitiveness of our business and industry partners."

Atewologun said, "I look forward to working with the faculty and staff in serving students and advancing the mission of this great institution. Working together, I am confident that we will strengthen our academic programs and outreach initiatives and further improve our contributions to southern Minnesota and the state."

Established in 1940, Riverland Community College is a comprehensive technical and community college with campuses in Albert Lea, Austin and Owatonna. The college serves more than 10,000 students annually through credit-based educational programs and non-credit courses. Riverland is recognized for excellence in liberal arts and career-technical higher education and plays an essential role in the economic and social vitality of the region.

Atewologun succeeds Kent Hanson, who has been serving as interim president since August 2012. Hanson was recently named president of Anoka-Ramsey Community College and Anoka Technical College.