Posted: March 20, 2013
Contact: Doug Anderson, doug.anderson@MinnState.edu, 651-201-1426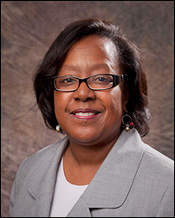 The Board of Trustees of the Minnesota State Colleges and Universities (MnSCU) system today appointed Annette Parker president of South Central College. Her appointment is effective July 1.

Parker has served at the Kentucky Community and Technical College (KCTC) System since 2007 as system executive director, National Center of Excellence in Advanced Automotive Manufacturing and system director, Workforce Education. Prior to KCTC, she served from 2002-2007 as department chair, Manufacturing Engineering Technologies at Lansing Community College (MI). Previously, Parker served on the faculty of Lansing Community College teaching college students, corporate employees, and dual-enrolled K-12 students.

Parker holds an associate degree in industrial drafting from Lansing Community College, a bachelor's degree in technical education and a master's degree in career and technical education from Ferris State University (MI), and a doctorate in educational leadership from Western Kentucky University.

In recommending Parker's appointment, Steven Rosenstone, MnSCU chancellor, said, "Dr. Parker is a proven leader and recognized expert in technical and liberal arts education strategies in support of global industries. Coupled with her deep experience in engaging students and faculty, and creating partnerships with business and government officials, she is an outstanding choice to lead South Central College and serve our Faribault and Mankato communities."

Clarence Hightower, chair of the MnSCU Board of Trustees, said, "Under Dr. Parker's leadership, we can expect South Central College to continue its success in providing high-quality academic programs to students and helping to advance the global competiveness of our business and industry partners and the region."

Parker said, "It is both humbling and a tremendous honor to have been selected to serve with the faculty and staff at this outstanding institution and the communities it serves. I look forward to our work together in enhancing access, promoting student success, fueling innovation and pursuing excellence in all we do."

South Central College is a growing comprehensive community and technical college with a history of academic excellence. With campuses in Faribault and North Mankato, South Central College emphasizes globalization and has partnerships with regional businesses and industries to offer students opportunities for internships and student employment.

Parker succeeds Keith Stover, who is retiring after 14 years of service as president of South Central.