Posted: March 20, 2013
Contact: Doug Anderson, doug.anderson@MinnState.edu, 651-201-1426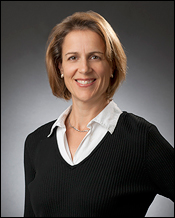 The Board of Trustees of the Minnesota State Colleges and Universities (MnSCU) system today appointed Gail O'Kane interim president of Rochester Community and Technical College (RCTC). Her appointment is effective July 1.

O'Kane has served as associate vice president for strategy, planning and accountability at the Minneapolis Community and Technical College (MCTC) since March 2011. Prior to MCTC, she served from 2005-2011 in the MnSCU system office as the senior leader for education-industry partnerships in support of STEM and bioscience education. O'Kane's previous experience includes working with the BioBusiness Alliance of Minnesota to develop Destination 2025, the state's roadmap for growing the life sciences.

O'Kane holds a bachelor's degree in political science from Boston College and a doctorate in neuroscience from the Massachusetts Institute of Technology.

"Gail O'Kane is an experienced, effective leader with a strong record of success in working collaboratively with students, faculty, staff and community leaders," said Steven Rosenstone, MnSCU chancellor. "Her appointment will ensure RCTC advances as a creative and innovative partner supporting Rochester's vitality in technology, health care and the biosciences. I am confident that the college is in very capable hands."

In commenting on her appointment, O'Kane said, "I look forward to serving the Rochester community and working with the outstanding faculty and staff at RCTC in delivering an extraordinary educational experience for students and meeting the needs of our industry partners."

Founded in 1915, Rochester Community and Technical College is the oldest public two-year college in Minnesota and one of the nation's oldest original community colleges. RCTC offers state-of-the-art classrooms, labs, and workshops, and an advanced technology infrastructure supporting more than 70 technical and transfer programs for students. The college also delivers credit and non-credit education and training for the region's incumbent workers and is a key partner in advancing the competitiveness of business and industry in the greater Rochester region.

O'Kane succeeds Don Supalla who will retire June 30 after having served as RCTC president since 2000.