Posted: April 17, 2013
Contact: Doug Anderson, doug.anderson@MinnState.edu, 651-201-1426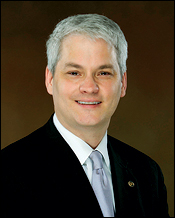 The Minnesota State Colleges and Universities (MnSCU) Board of Trustees today appointed John O'Brien as interim vice chancellor for academic and student affairs. His appointment is effective June 1, 2013.

O'Brien currently serves as president of North Hennepin Community College (NHCC), a position he has held since 2010, and will return to the position upon completion of his interim term as vice chancellor. Prior to NHCC, he served from 2009-2010 as director of MnSCU's "Students First" initiative. Previously, O'Brien served at Century College as academic vice president/chief academic officer from 2005 - 2008 and as acting president from 2008 – 2009, and as MnSCU associate vice chancellor, instructional technology from 1999 - 2005. He brings considerable college and university classroom teaching experience to his new role, including service at Normandale Community College, Augsburg College, the University of Minnesota, the University of St. Thomas, and Augustana College (SD). O'Brien's community activities include service as a member of the Boards of the Brooklyn Bridge Alliance for Youth, the NorthStar STEM Alliance, the HealthForce Minnesota Executive Alliance, the Learning Network of Minnesota, the Arc of Minnesota, the Lutheran Social Services Foundation, and The Minnesota Campus Compact.

In recommending O'Brien's appointment, Steven Rosenstone, MnSCU chancellor, said "John O'Brien is an action-oriented leader dedicated to student success and passionate about ensuring access to an extraordinary education for all Minnesotans. He is a proven innovator who will help Minnesota State Colleges and Universities effectively implement the strategic changes necessary to meet the challenges facing the future of higher education."

O'Brien holds a bachelor's degree in English and English education from Augustana College, a master's degree in Anglo-Irish Literature from the University of Dublin, Trinity College, and a doctorate in English from the University of Minnesota.

O'Brien succeeds Douglas Knowlton, who has accepted an interim appointment as vice president of student academic success at Metropolitan State University, a member of the Minnesota State Colleges and Universities system.