Posted: May 22, 2013
Contact: Doug Anderson, doug.anderson@MinnState.edu, 651-201-1426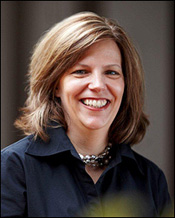 The Minnesota State Colleges and Universities Board of Trustees has named Lisa Larson to serve as acting president of North Hennepin Community College. Her appointment becomes effective June 1, 2013.

Larson currently serves at Hennepin Technical College as vice president for academic and student affairs. Previously, she served as dean of business and industry at Lake Superior College from 2004-2007; dean of construction, manufacturing and transportation at Hennepin Technical College from 2000-2004; and general education coordinator at Dakota County Technical College from 1999-2000. Larson has taught at Hennepin Technical College; Minnesota State University, Mankato; Minneapolis Business College; and the University of Minnesota – Crookston.

Dr. Larson holds a bachelor's degree in secondary education, speech communication and political science from Northern State University (SD), a master's degree in speech communication and industrial relations from Minnesota State University, Mankato, as well as a doctorate in educational leadership from St. Mary's University (MN).

In recommending Larson for the role, Chancellor Steven Rosenstone said, "Dr. Larson is an experienced academic leader dedicated to student success and strong partnerships with faculty, staff and the community. She is committed to the mission of community colleges. Under her leadership, North Hennepin Community College will continue its tremendous momentum."

Larson will serve as acting president while North Hennepin Community College President John O'Brien completes a 13 month term as Interim Vice Chancellor for Academic and Student Affairs for Minnesota State Colleges and Universities.