Posted: April 23, 2014
Contact: Doug Anderson, doug.anderson@MinnState.edu, 651-201-1426
Winners selected from among 30 Outstanding Educators
ST. PAUL, Minn., April 23, 2014 – The Minnesota State Colleges and Universities Board of Trustees today presented the system's highest academic honor, the Educator of the Year Award for Excellence in Teaching, to four faculty members. They are Deanna Forsman of North Hennepin Community College, Cheryl Neudauer of Minneapolis Community and Technical College, Sandra Seller-Wee of Riverland Community College, and Cheryl Tefer of Anoka-Ramsey Community College.
The MnSCU Board of Trustees bestows the award to acknowledge and reward exceptional professional accomplishment and to encourage ongoing excellence in teaching. The winners were selected from 30 faculty members named Outstanding Educators by the presidents of their respective institutions based on nominations by students, faculty peers or staff. Evaluation criteria include: content expertise and professional growth; teaching strategies and materials; assessment of student learning and performance; and service to students, the profession, the institution, and the system. This is the eighth year of the awards.
"For our students to succeed and for Minnesota to prosper, we need amazing faculty members like those who were honored today," said Clarence Hightower, chair of the Board of Trustees. "They are a tremendous state resource."
"These great teachers serve our students each and every day, opening doors and creating brighter futures for all Minnesotans," said Steven Rosenstone, MnSCU chancellor. "Their commitment to our students is remarkable. I am proud to be associated with their work and the excellence they deliver."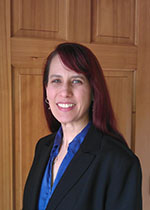 Deanna Forsman, instructor of history at
North Hennepin Community College

Deanna Forsman, instructor of history at North Hennepin Community College is a published scholar who regularly presents at national and international conferences on late antiquity and the middle ages. Her approach to teaching history leads students to learn more than just the facts related to a specific historical period. They learn to be comfortable with ambiguity and to value their own intellectual curiosity and persistence. "You encouraged us to push through our comfort zone and to not look at history through rose colored glasses, but with a more realistic view of life during that time," said one student. "She helped us grow by letting us develop a sense of what was important and going on during the time period," said another. At the University of California Los Angeles, Forsman earned bachelor's degrees in psychology and history and went on to complete both a master's and doctorate in medieval European history.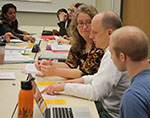 Cheryl Neudauer, instructor of biology at
Minneapolis Community and Technical College
Cheryl Neudauer, instructor of biology at Minneapolis Community and Technical College is an academic leader in and out of the classroom. "She has created a significant college 'footprint,'" said Phil Davis, president of MCTC. "It is hard to imagine a faculty member who has had a greater impact." Respected by her peers for dedication to all aspects of teaching and learning, she challenges herself constantly to explore new strategies that can expand and deepen student learning. It is her intention to prepare medical professionals with excellent biology instruction, and to do so in inclusive learning environments that foster significant learning for a diverse body of students. She teaches, she says, to help students develop confidence in their own learning and abilities; "to realize they can change their lives and influence their communities, patients, and loved ones." She earned a doctorate in biomedical sciences-pharmacology at Mayo Graduate School and had a 15-year career in cancer research, publishing extensively.
 Sandra Sellner-Wee, instructor of radiography at Riverland Community College gives her students the benefit of the creative variety of teaching methods she uses to teach theory and practice. Connecting with students in innovative ways to enhance learning is a strength she wields with ease, employing a range of methods and tools in her varied and developing approaches to teaching. As a student notes, "She always puts her students first and recognizes the importance of proper training and knowledge to ready us for the workforce." After graduating with an associate's degree in radiography from the Mayo School of Health-Related Science and Rochester Community College, Sellner-Wee earned both bachelor's and master's degrees from the University of St. Francis. She is board certified in radiography and mammography, and has worked in several specialty radiography fields for over 26 years.
Cheryl Tefer, instructor of nursing at
Anoka-Ramsey Community College
Cheryl Tefer, instructor of nursing at Anoka-Ramsey Community College, has worked and taught in the field of nursing for 40 years and has instructed an estimated 4,000 nursing students. She demonstrates unique abilities to successfully prepare students for the nursing profession. She recently played a key role in the development of the innovative Minnesota Alliance for Nursing Education. Tefer completed her master's and additional post-graduate work at the University of Minnesota, having earned a bachelor's degree in nursing at the University of Iowa. She has been a nursing faculty member at Anoka-Ramsey Community College for almost 25 years and is a frequent presenter at conferences and summits. "Her innovative focus and drive to promote Anoka-Ramsey's nursing program shines through in everything she does," states President Kent Hanson.
The Minnesota State Colleges and Universities include 24 two-year community, technical, and comprehensive colleges and seven state universities serving more than 430,000 students. It is the fifth-largest higher education system of its kind in the United States.
###