Posted: March 18, 2015
Contact: Doug Anderson, doug.anderson@MinnState.edu, 651-201-1426
ST. PAUL, Minn., March 18, 2015 – The Board of Trustees of Minnesota State Colleges and Universities today appointed Dennis Bona as president of Northland Community and Technical College.
Bona's appointment becomes effective July 1, 2015.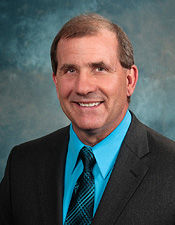 "Dr. Bona has an impressive understanding of the importance of Northland Community and Technical College to northwest Minnesota," said Steven Rosenstone, chancellor of Minnesota State Colleges and Universities. "He is an innovative leader with a track record of putting creative ideas into action. He will work closely with students, faculty, and staff as well as business and industry in the region to meet the needs of northwest Minnesota and to strengthen the college over the years ahead."

Bona has been president of Kellogg Community College (MI) since 2010. From 1981 to 2010, he served Kellogg Community College in a number of other capacities including vice president for instruction (2003-2010), dean of career and occupational education (1999-2003), and director of the Regional Manufacturing Technology Center (1991-1999). He holds an associate degree and a bachelor's degree from Ferris State University, and a master's and a doctorate from Western Michigan University.

"I am tremendously honored to have been selected to lead this outstanding institution," said Bona. "I look forward to working closely with the faculty, staff, and students, as well as my colleagues throughout MnSCU, as we strive to inspire student success, cultivate high quality programs, services, and employees, and revolutionize growth strategies to sustain vibrant learning communities."

Northland Community and Technical College is a comprehensive college with campuses in East Grand Forks and Thief River Falls, Minnesota, and a satellite site in Roseau, Minnesota. The college offers a range of certificates, diplomas, and degrees for those looking to quickly join the workforce or transfer to a four-year university. With solid roots in northwestern Minnesota, Northland was formed in 2003 from the merger of Northwest Technical College in East Grand Forks and Northland Community and Technical College in Thief River Falls, each of which brought a long history of serving the needs of students and employers in the Red River Valley and northwestern Minnesota. The college has recently launched two new aerospace programs that are the first of their kind in the nation: Unmanned Aerial Systems and Imagery Analysis. A strong liberal arts department with five associate degree programs prepares students for transfer into four-year programs.

Bona will succeed Dr. Anne Temte, who has been serving as president since July 2006 and has announced her intention to retire
The Minnesota State Colleges and Universities include 24 two-year community, technical, and comprehensive colleges and seven state universities serving more than 410,000 students. It is the fifth-largest higher education system of its kind in the United States.
###