Posted: May 20, 2015
Contact: Doug Anderson, doug.anderson@MinnState.edu, 651-201-1426
ST. PAUL, Minn., May 20, 2015 – The Board of Trustees of Minnesota State Colleges and Universities today appointed Merrill Irving, Jr. as president of Hennepin Technical College. His appointment becomes effective July 1, 2015.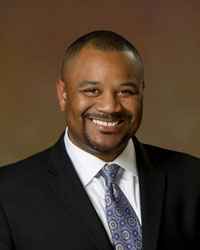 Merrill Irving, Jr.

"Merrill Irving has devoted his career to developing academic programs that prepare students for technical careers and skilled jobs in high demand," said Steven Rosenstone, chancellor of Minnesota State Colleges and Universities. "Dr. Irving is passionate about Hennepin Technical College's power to transform students' lives and serve the communities of Brooklyn Park and Eden Prairie."
Irving has served as the associate vice president of continuing education, training, and workforce development at Oakton Community College (IL) since 2012. Previously, he served Miami Dade College as the chair of the School of Continuing Education and Professional Development at Wolfson Campus and director of the Department of Labor biosciences program. He was the interim executive director of the Center of Long Beach (CA), the director of education at the Homecare Workers Training Center (CA), and a regional director and business consultant at the Los Angeles Business Resource Group, Business Interface Inc. He holds bachelor's and master's degrees from West Virginia University, and a doctorate from the University of Southern California.
Hennepin Technical College is Minnesota's largest technical college, serving more than 10,000 students at campuses in Brooklyn Park and Eden Prairie. HTC offers more than 45 programs of study leading to certificates, diplomas, and Associate of Applied Science (A.A.S.) or Associate of Science (A.S.) degrees. The college offers many evening, weekend, and online courses. In addition, cutting-edge continuing education is available through HTC's Customized Training Services.
The Minnesota State Colleges and Universities include 24 two-year community, technical, and comprehensive colleges and seven state universities serving more than 410,000 students. It is the fifth-largest higher education system of its kind in the United States.
###