Posted: May 20, 2015
Contact: Doug Anderson, doug.anderson@MinnState.edu, 651-201-1426
ST. PAUL, Minn., May 20, 2015 – The Board of Trustees of Minnesota State Colleges and Universities today appointed Barbara McDonald as president of North Hennepin Community College. Her appointment becomes effective July 1, 2015.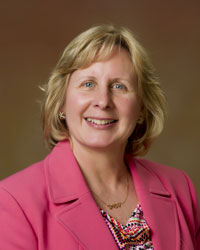 Barbara McDonald


"Barbara McDonald is an extraordinarily experienced and gifted leader who is deeply committed to student success," said Steven Rosenstone, chancellor of Minnesota State Colleges and Universities. "As interim president at Minnesota West Community and Technical College this past year, Dr. McDonald has worked closely with students, faculty, staff, and community leaders to grow enrollments and expand partnerships with K-12 and businesses across the region. She will bring that same collaborative spirit to North Hennepin Community College."
McDonald has served as interim president at Minnesota West Community and Technical College since 2014. Previously, she served at Itasca Community College as provost, dean of academic affairs and student services, and director of institutional effectiveness. Prior to Itasca Community College, she served as a faculty member at Rainy River Community College. She holds a bachelor's degree from the University of Colorado, Boulder, a master's degree from the American University in Cairo, and a doctorate from the University of Minnesota.
North Hennepin Community College has been a leading provider of higher education in the northwest metropolitan area of the Twin Cities since 1966. Conveniently located at the intersection of 85th Avenue North and West Broadway in Brooklyn Park, NHCC's beautiful campus is rich with activity and diversity. The college serves more than 10,000 students and offers a variety of programs with flexible scheduling options and affordable tuition including associate degrees, credit and non-credit certificates, the Minnesota Transfer Curriculum, as well as a number of bachelor's degrees through partnerships with four-year universities. An equal opportunity educator and employer, NHCC is accredited by the Higher Learning Commission of the North Central Association of Colleges and Schools.
The Minnesota State Colleges and Universities include 24 two-year community, technical, and comprehensive colleges and seven state universities serving more than 410,000 students. It is the fifth-largest higher education system of its kind in the United States.
###