Posted: April 19, 2017
Contact: Doug Anderson, doug.anderson@MinnState.edu, 651-201-1426
ST. PAUL, Minn., April 19, 2017 – The Minnesota State Colleges and Universities Board of Trustees today recognized professional achievement and excellence by presenting the 2017 Awards for Excellence in Teaching and the Professional Excellence Award for Administrative Service Faculty.
The awards recognize superior teaching and service at the colleges and universities of Minnesota State and reflect the Board of Trustees' pride in the dedication and accomplishments of the faculty in providing an extraordinary education to students. Campus award committees recommended nominees to their campus president, who then forwarded a single nominee for each award to an award review committee consisting of faculty, staff, and campus leadership from across Minnesota State. Based on the committee's review, the Board of Trustees selected the final honorees. The awards are announced annually in conjunction with the board's April meeting.
"The board established these awards as a way to honor exceptional work, to shine a spotlight on it, and to share it far beyond a single campus," said Michael Vekich, chair of the Board of Trustees. "The faculty we recognize today are representative of their colleagues across Minnesota, but they are also quite special, and we are very pleased to recognize their outstanding work."
"The magic of education happens on our campuses, both inside and outside of the classroom," said Steven Rosenstone, chancellor of Minnesota State. "That's where our dedicated, talented, and creative faculty and staff do the amazing work that transforms the lives of our students."
The 2017 Board of Trustees Award for Excellence in Teaching
The Board of Trustees Award for Excellence in Teaching acknowledges and rewards exceptional professional accomplishment in teaching. Evaluation criteria include teaching strategies and materials; content expertise and professional growth; assessment of student learning and performance; and service to students, the profession, the institution, and the Minnesota State system. This is the 11th year this award has been presented.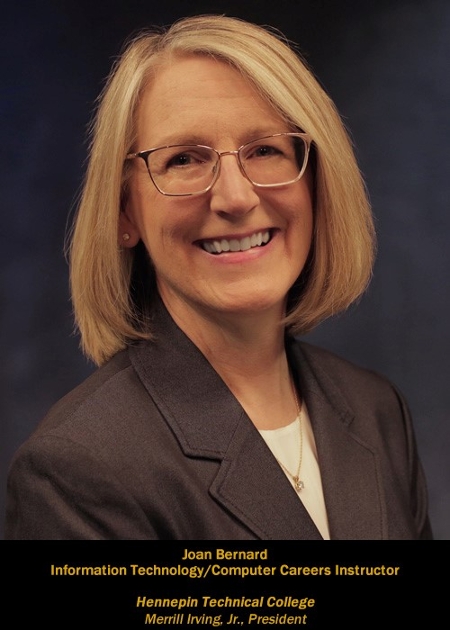 Joan Bernard, Computer Careers/Information Systems Instructor, Hennepin Technical College
"Joan engages all her students through a variety of course materials with an emphasis on providing support to learners who are visual or are continuing to master their English language skills," said Merrill Irving, Jr., president of Hennepin Technical College. "She has a passion for students and understands that teaching and learning is about building relationships. She works on developing such relationships with each of her students in order to create a bond and a path to lifelong learning."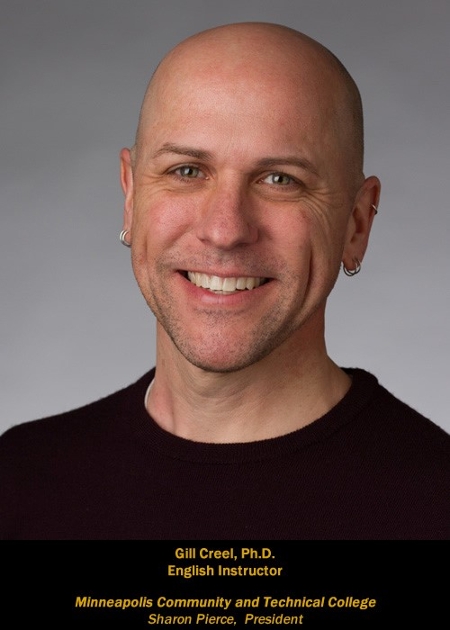 Thomas (Gill) Creel, English Instructor, Minneapolis Community and Technical College
"Gill is a steadfast innovator who has a profound impact on the students and community at MCTC," said Sharon Pierce, president of Minneapolis Community and Technical College. "Since joining MCTC's English faculty in 1999, Gill has distinguished himself through innovative teaching online and in the classroom. He is dedicated to continually improving his own teaching and helping others do the same by sharing what he learns and leading important conversations about the learning environment at MCTC."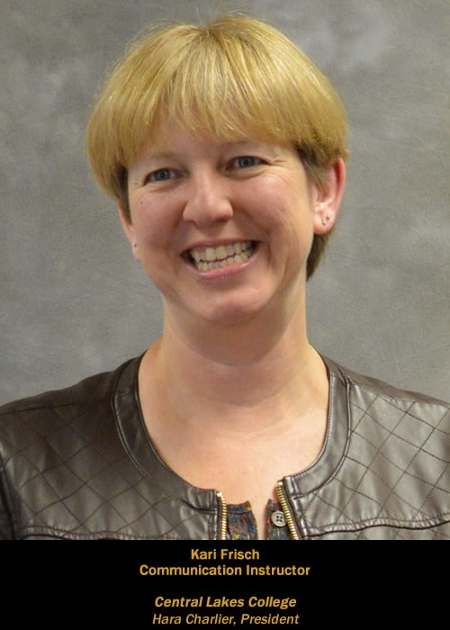 Carol (Kari) Frisch, Communications Instructor, Central Lakes College
"Kari is a member of an elite class of faculty – those who take personally the work of student success to provide both an extraordinary education and an equally extraordinary environment to connect students with rigorous content," said Hara Charlier, president of Central Lakes College. "She is one of the most dedicated and engaged instructors with whom I have had the privilege of working. Kari has certainly made many contributions to Central Lakes College and Minnesota State. Her level of commitment to her college and her students inspires all of us to reach higher, do more, and change more lives."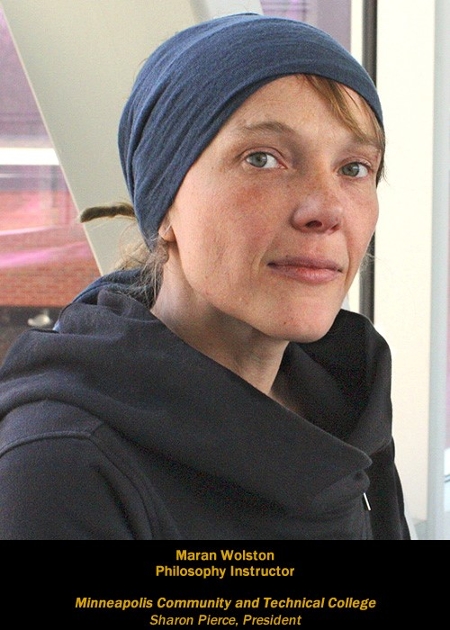 Maran Wolston, Philosophy Instructor, Minneapolis Community and Technical College
"While her passion and hard work are notable, the true foundation of Maran's success is built on relationships," said Sharon Pierce, president of Minneapolis Community and Technical College. "Research has shown time and again that meaningful and personal relationships directly influence student persistence, success, and engagement. One of the reasons Maran has been able to have such a significant impact on campus is because of her ability to collaborate and earn the respect of others, including her fellow faculty."
The 2017 Board of Trustees Professional Excellence Award for Administrative Service Faculty
The Professional Excellence Award for Administrative Service Faculty recognizes exceptional individual professional accomplishment in key roles that service faculty fulfill including recruitment, retention, and placement for students. The selection criteria include exceptional work performance; advancement of the university mission; expertise, creative achievement, and professional development; and contribution to student growth and development. This is the third year this award has been presented. This year, it was presented to Dr. Kierstin Hoven, director of campus recreation at Bemidji State University.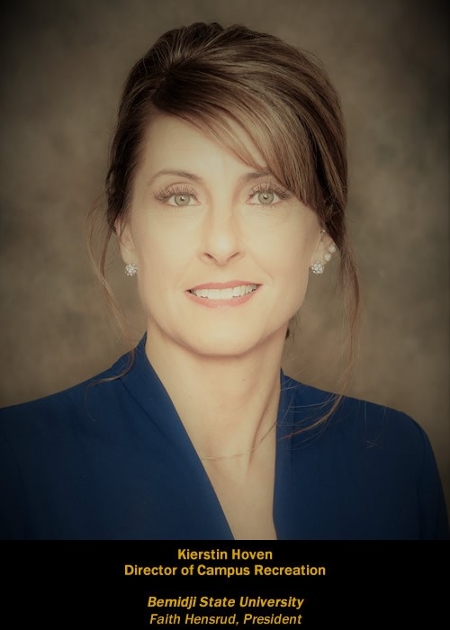 Kierstin E. Hoven, Director of Campus Recreation, Bemidji State University
"Kierstin's determination to make a difference in others' lives distinguished her as a nominee for the Board of Trustees Professional Excellence Award," said Faith Hensrud, president of Bemidji State University. "For her, having a revolving group of student workers in the BSU Department of Recreation is not merely an asset to be efficiently leveraged. She seizes the chance to provide these young adults an engaging experience that can prepare them for future opportunities. In addition, she views her work to attract local residents as regular users of the Gillett Wellness Center as a way to improve the health and well-being of the community while promoting a mutually beneficial connection with the university. She is a true standout whose professional excellence is an inspiring example to all."
###
Minnesota State includes 30 community and technical colleges and seven state universities serving approximately 400,000 students. It is the fourth-largest system of two-year colleges and four-year universities in the United States.