Posted: June 21, 2017
Contact: Doug Anderson, doug.anderson@MinnState.edu, 651-201-1426
ST. PAUL, Minn., June 21, 2017– The Board of Trustees of Minnesota State Colleges and Universities has named Lori Kloos interim president of St. Cloud Technical and Community College (SCTCC). Kloos will succeed Joyce Helens who has served as president since 2006 and has accepted a position with Great Basin College in Nevada. The appointment of Kloos becomes effective August 1.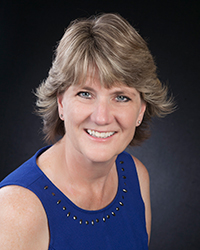 "Lori Kloos is a dedicated leader who has built positive internal and external relationships," said Steven Rosenstone, chancellor of Minnesota State. "She will have the benefit of an outstanding and supportive team of creative and well-respected senior leaders to continue to advance the college's strategic plan. As interim president, she will provide the college and the community with a seamless transition, keeping the college strong. I am pleased to recommend her appointment as interim president."
Kloos has served SCTCC as the vice president of administration and chief financial officer since 2000, and has also served as acting president (2005). Previous roles have included serving in the Office of the Legislative Auditor and the Office of the State Auditor. Kloos holds a diploma from Austin Area Vocational Technical Institute (now Riverland Community College) and a bachelor's degree from Moorhead State University (now Minnesota State University Moorhead).
A search for a permanent president will be launched this fall with the goal of having a new leader in place by the start of the 2018-2019 academic year.
St. Cloud Technical & Community College was founded in 1948 as the second technical college in the state, and currently serves approximately 6,000 students. SCTCC has committed to meeting the needs of the community through its 90+ program options that closely match the types of jobs available in the area. The college is accredited by the Higher Learning Commission of the North Central Association of Colleges and Schools.
###
Minnesota State includes 30 community and technical colleges and seven state universities serving approximately 400,000 students. It is the fourth-largest system of two-year colleges and four-year universities in the United States.