Posted: November 6, 2017
Contact: Doug Anderson, doug.anderson@MinnState.edu, 651-201-1426
ST. PAUL, Minn., November 6, 2017 – Surrounded by the presidents of the 37 colleges and universities of Minnesota State, Interim Chancellor Devinder Malhotra signed a Statement of Support under the Department of Defense Employer Support of the Guard and Reserve (ESGR) program. The statement commits Minnesota State to support the military service of employees in the Guard or Reserves.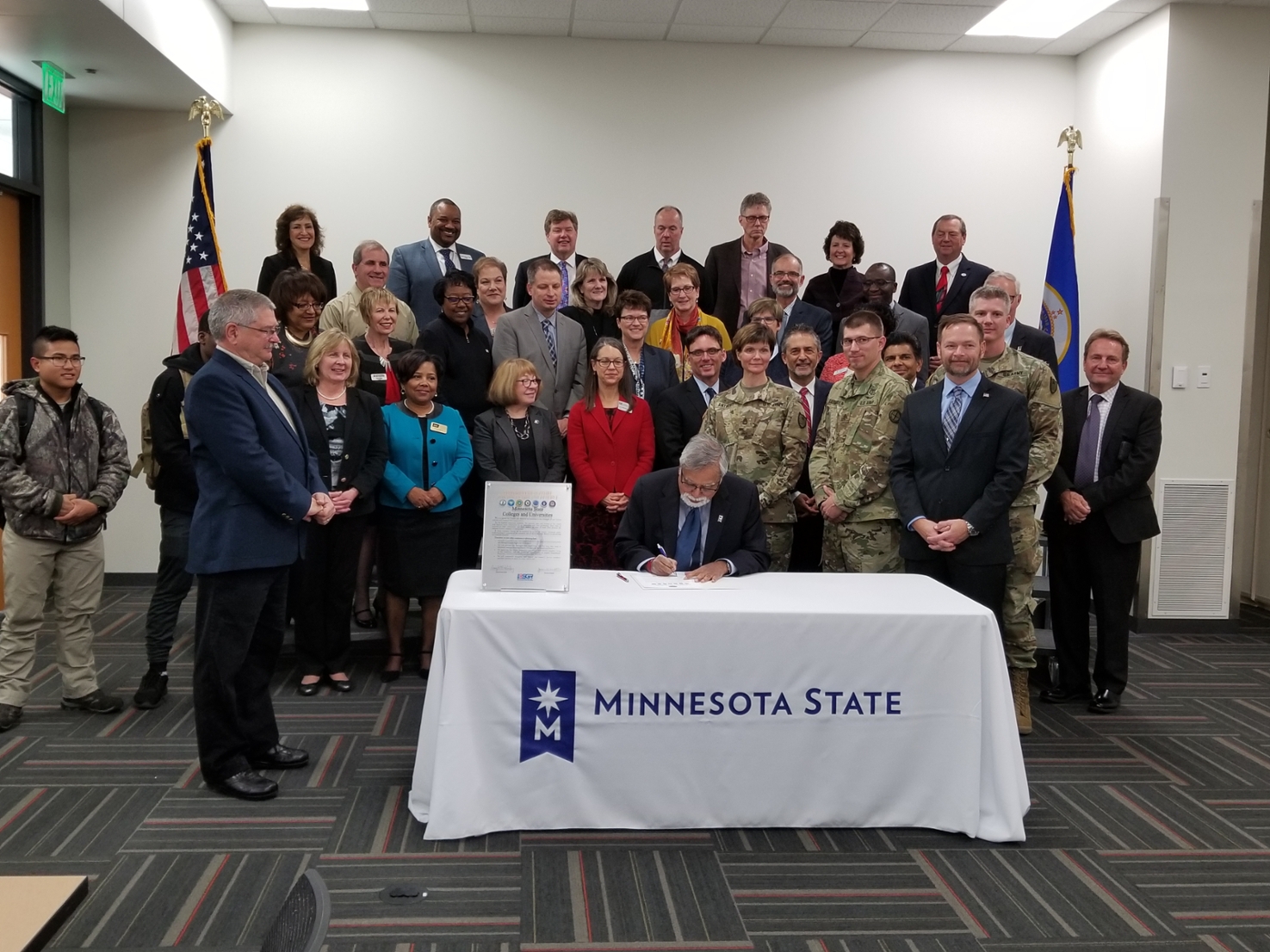 By signing the statement, Minnesota State has committed to recognize, honor, and comply with the Uniformed Services Employment and Reemployment Rights Act by protecting the civilian employment of active and reserve military personnel who are called to active duty. Minnesota State also will make tools available for managing employees who serve in the Guard and Reserve; encourage opportunities for hiring Guardsmen, Reservists, and veterans; and recognize and support Service members and their families in peace, in crises, and in war.
"We are proud of our faculty and staff who serve in the Guard and Reserves," said Malhotra. "These individuals serve our country and protect our freedom in addition to serving our students and communities all across Minnesota. We owe them our heartfelt thanks and we are honored to offer all the support we can."
Also present for the signing was Tom Simonet, ESGR State Committee Chair, and Mike Bellos, ESGR Military Outreach Director. ESGR is an office of the Department of Defense that promotes employer support for Guard and Reserve service by advocating relevant initiatives and recognizing outstanding support.
Minnesota State is known as a nationwide leader for its military-friendly policies that benefit veterans and service members as both students and employees. The system currently serves over 10,000 veterans and service members as students, and has over 300 veteran employees.
###
Minnesota State includes 30 community and technical colleges and seven state universities serving approximately 375,000 students. It is the fourth-largest system of two-year colleges and four-year universities in the United States.