Posted: January 29, 2020
Contact: Doug Anderson, doug.anderson@MinnState.edu, 651-201-1426
ST. PAUL, Minn., Jan. 29, 2020 – The Minnesota Precision Manufacturing Association (MPMA) Education Foundation today presented Minnesota State with a contribution of $30,000 for scholarships that will be offered to new students entering advanced manufacturing programs at Minnesota State colleges. The contribution will supplement scholarships that are being offered under the Workforce Development Scholarship program beginning Fall, 2020. This represents the second time that the MPMA has contributed $30,000 for Workforce Development Scholarships.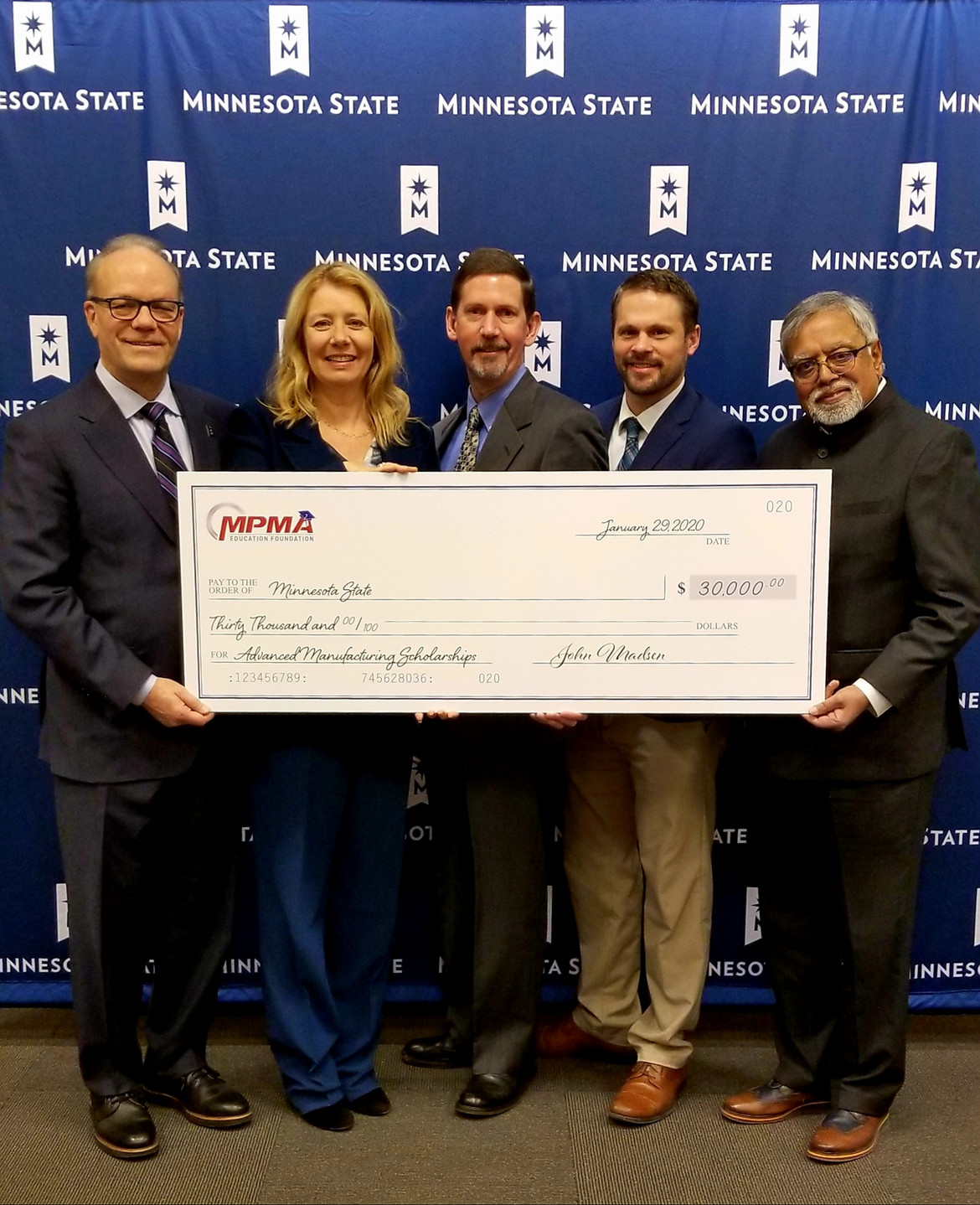 (Minnesota State Board of Trustees Chair Jay Cowles, Trustee Dawn Erlandson, Black Line Group Vice President Manufacturing Practice Leader & MPMA Education Foundation President John Madsen, Minnesota Precision Manufacturing Association President & CEO Steve Kalina, and Minnesota State Chancellor Devinder Malhotra)
"MPMA is excited to once again partner with Minnesota State to support advanced manufacturing scholarships," said Steve Kalina, president/CEO of MPMA. "The opportunity to support this program and encourage students to pursue manufacturing as a career has motivated our industry to collaborate with education on a much deeper level to strengthen the development of our workforce."
Initially funded by a $1 million appropriation for a pilot program during the 2017 legislative session, the Workforce Development Scholarship program was dramatically expanded during the 2019 session to $2 million in FY2020 and $6 million in FY2021. The scholarships are available to new students enrolling at any Minnesota State college in associate degree, diploma, or certificate programs in high demand sectors including advanced manufacturing, agriculture, health care services, information technology, early childhood education, and transportation. Business and industry partners have the opportunity to supplement these scholarships through private contributions -- the MPMA contribution will be used to supplement scholarships offered to students entering advanced manufacturing programs.
"We share the enthusiasm for the impact these scholarships are having, and we are tremendously grateful for the continued generosity of the MPMA," said Devinder Malhotra, chancellor of Minnesota State.
Students interested in learning more about these scholarships or applying for admission, or employers or associations interested in funding scholarships within specific sectors should contact any of the 30 colleges or seven universities of Minnesota State. Additional information is available at https://minnstate.edu/stories/wds.
###
Minnesota State includes 30 community and technical colleges and seven state universities serving approximately 350,000 students. It is the third-largest system of two-year colleges and four-year universities in the United States.