Posted: June 22, 2022
Contact: Doug Anderson, doug.anderson@MinnState.edu, 651-201-1426
ST. PAUL, Minn., June 22, 2022 – The Board of Trustees of the Minnesota State Colleges and Universities has unanimously elected Roger Moe to the role of chair, and George Soule to the role of vice chair. The chair is elected for one two-year term; the vice chair is elected for one one-year term. Both appointments become effective July 1, 2022.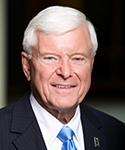 "Although the colleges and universities of Minnesota State are facing challenges similar to those being faced by higher education throughout the country, our faculty, staff, and our students remain resilient and committed," said Moe. "With the tremendous talent of our campus leaders, our system leaders, and our trustees, we will overcome the challenges we face and continue the vital work of providing opportunities for all Minnesotans to create a better future for themselves, for their families, and for their communities.
Moe has served on the Board of Trustees since 2016. Previously, he served 32 years in the Minnesota Legislature, including 22 years as Senate Majority Leader. His legislative accomplishments include the creation of the Minnesota State Colleges and Universities system, the Minnesota Job Skills Partnership, the Midwest Higher Education Commission, and the Environmental Trust Fund. He has also served as a mathematics teacher and coach at Ada High School. Moe is a former member of the Policy Consensus Initiative Board of Directors, Debate Minnesota, the Minnesota Twins Community Fund Governance Committee, and the Minnesota Job Skills Partnership Board. He earned a bachelor's degree from Mayville State University and an Honorary Doctor of Laws Degree from the University of Minnesota for his years of public service.
George Soule has served on the Board of Trustees since 2017. He is an appellate tribal court judge for five Minnesota Tribes, including the White Earth Nation. He is a founding partner of Soule & Stull LLC, where he is a civil trial attorney handling cases involving product liability, commercial, and negligence claims. Previously, Soule was a founding and managing partner at Bowman and Brooke LLP.
Soule earned a bachelor's degree from Minnesota State University Moorhead (formerly Moorhead State University) and a juris doctor from Harvard Law School.
Soule is a member of the board of the Division of Indian Work, and is a past president of the Minnesota American Indian Bar Association. He is a member of the Minnesota Campaign Finance and Public Disclosure Board, has served on the board of the Minnesota State University Moorhead Alumni Foundation, and is a past chair of the Minnesota Commission on Judicial Selection. 
"Serving as a member of the Board of Trustees is an honor," Soule said, "and I am grateful for the confidence my fellow trustees have shown in me."
###
Minnesota State includes 26 community and technical colleges and seven state universities serving approximately 340,000 students. It is the third-largest system of two-year colleges and four-year universities in the United States.