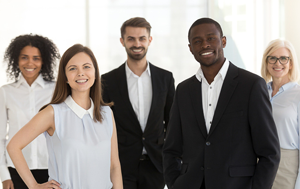 Minnesota State offers flexible, customizable training and business solutions to meet your workforce needs. Whether your employees need certification, skill building, or career training, our 54 campuses can help.
An experienced partner — thousands of businesses, government agencies, and non-profits connect with our colleges and univiserities each year.
Flexible locations — our instructors can join you at your site, provide online or video training, or train at our 54 campus locations.
Quality education from knowledgeable instructors.
Training for almost every industry sector — can't find what you're looking for? Ask us!
Flexible scheduling — open enrollment and customized training solutions are available to fit your needs. Do you have an urgent training need? Minnesota State can help.
Get the customized training solution you need for your business or organization. Contact us to get started. Or preview some of our training options below.
Contact Us
Whether you are looking for training for your workforce, help connecting to industry experts, or any other need, our trained support staff is available to answer your questions and connect you with resources. 
Live chat, email questions, or call us to connect to solutions for your workforce.
Toll-free: 833-905-WORK
International: +1-651-5568456
MN Relay: 800-627-3529