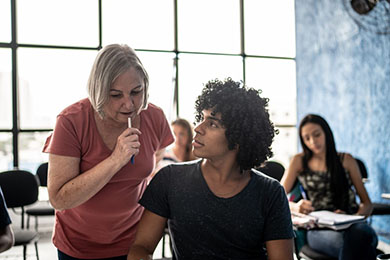 Help Students Succeed. Get Credentialed.
As a concurrent enrollment instructor, you play a vital role in preparing high school students for college and a career! Studies show students who complete concurrent enrollment courses are more likely to graduate high school, go to college, and complete a post-secondary degree.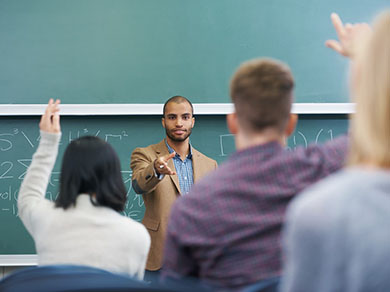 Your students are counting on you. Pathway to 18 is here to help!
The Higher Learning Commission (HLC) requires colleges and universities awarding credit to have qualified faculty with discipline-specific credentials, including concurrent enrollment instructors.
If you teach in the liberal arts, the HLC requires a master's degree or higher in the subject you teach OR a master's degree or higher in another discipline + 18 graduate credits in the subject you teach.
The seven universities of Minnesota State created Pathway to 18 to help you get the credentials you need quickly and affordably!
---
University Partners and Course Submission
Learn more about our seven university partners and the
Graduate Education Collaborative.
University faculty and staff can also submit coursework for system office review and approval.
Testimonials
"Pathway to 18 helped me meet concurrent enrollment credentialing requirements by assisting with course availability and funding. I found many courses through Bemidji State and Minnesota State University Moorhead that worked well in my schedule to earn the 18 additional credits I needed. Pathway to 18 also made me aware of funding opportunities that helped cover part of my costs."
Barb Tvinnereim
Concurrent enrollment instructor in biology,
Jackson County Central
Teaching concurrent enrollment classes is very fulfilling for me … and gives me the opportunity I need to keep my mind fresh and challenged. Concurrent enrollment makes college accessible for my students.
The Minnesota State universities were more than helpful and accommodating through the concurrent enrollment credentialing process. I feel like the universities understood my situation and wanted to accommodate me!"
Lynn Krause, M.Ed.
Concurrent enrollment instructor in
English, literature, and communications,
Wabasso High School
Concurrent enrollment is extremely vital to our schools, families, and instructors. Families like concurrent enrollment because of the college cost savings, and teachers enjoy the program because it keeps kids in our school. We appreciate the work the colleges and universities of Minnesota State have done collaboratively to create opportunities for teachers to earn their concurrent enrollment credentialing."
Dr. Chris Fenske
Superintendent,
Lakeview Public Schools