To support and enhance employee success, Minnesota State offers many leadership, faculty, and staff professional development opportunities at both the campus and system level.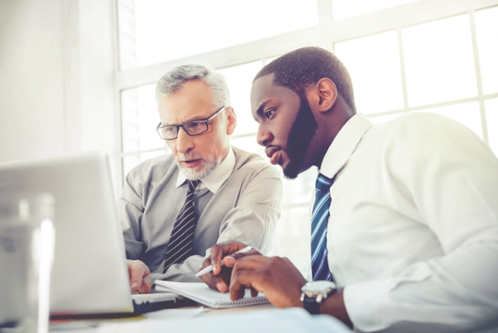 Minnesota State is committed to developing its own leaders, as well as attracting top talent from diverse and national pools. We have several internal leadership development programs for supervisors, mid-level leaders, and executives, including:
Supervisory training, both online and in-person
Orientation and professional coaching for new administrators
Leadership academy to develop mid-level leaders
There are many opportunities available to Minnesota State employees to enhance their job skills and develop their careers. New employees are provided with information to help them:
Understand their role and responsibilities as a state employee;
Perform their role safely; and
Be a part of the community at their campus and across the system.
Ongoing opportunities include:
Tuition waiver
Systemwide conferences and professional development days relating to professional fields
Job skills training, technical systems, and diversity and inclusion
Network for Educational Development (NED)
We are committed to the success of our employees. The NED was established to provide educational development opportunities that are designed by Minnesota State faculty and staff for Minnesota State faculty and staff. These opportunities help build awareness, develop knowledge, skills, and abilities, and provide space for reflecting and revising.
The NED offers:
Educational development opportunities (webinars, short courses, long courses, faculty learning communities) that are hosted on the NED Events Calendar.Themes include: 

Accessibility (Creating Accessible Course Documents, Finding Accessible Materials, etc.)
Academic Equity (Equity 101, Equity and Technology, Culturally Responsive Pedagogy, etc.)
Academic Technologies (D2L Brightspace, Kaltura MediaSpace, Zoom)
Foundations (Assessment, Course Design, Course Delivery, etc.)
Open Educational Resources (OEN Webinars, OER Learning Circles, etc.)
Teaching and learning competency courses (required for newly hired faculty)
Special Topics, Scholarship of Teaching and Learning, and More!
View the NED Catalog to learn more.
A repository of educational development resources
A space to start and join conversations about teaching, learning, and student success
This section is for nonemployees and newly hired employees who don't have access to HR Connect and ELM.  Employees should enroll in these courses through ELM. 
The Talent Management unit within the Human Resources division provides leadership and support to Minnesota State in attracting, retaining, and developing employees to meet current and future educational needs.
Chrome is the recommended browser to complete online training.
Resources